Florian Weinlich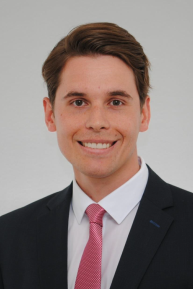 Florian completed both his bachelor's degree in International Business Administration and his master's degree in Finance & Accounting at WU Vienna. During his bachelor's studies, he spent a semester abroad at the University of Illinois at Urbana-Champaign. Furthermore, he holds the Chartered Financial Analyst designation. For several years he worked in industry in corporate finance and mergers & acquisitions before returning to university to pursue a PhD in Finance.
His research interests include, among others, corporate finance, investor behaviour and reaching for yield in the bond market.
Florian likes outdoor activities such as mountain biking, hiking and skiing.
Education:
Since 2021: PhD Student, Vienna Graduate School of Finance (VGSF)
2015: MSc in Finance and Accounting, WU Vienna
2013: BSc in International Business Administration, WU Vienna
Pan Yiming
Next page