Why VGSF?
Özlem Dursun-de Neef, VGSF Alumni (2013)
Junior Professor, Goethe University Frankfurt

I would recommend VGSF to my master students and I already have. The program provides a stimulating environment for research.
We offer fully-funded PhD positions to ambitious and dedicated students who are interested in a challenging and inspirational learning experience in the field of finance. The PhD program is a 5-year, full-time program organized jointly by the University of Vienna and WU Vienna.
Top 5 reasons why you should choose VGSF
Structured PhD program
Our program matches the US and international standard format: the first two years involve coursework to equip you with the tools necessary to conduct innovative research in finance and perform independent work on research projects.
This format provides you with solid foundations in the theory and empirical methods that are applied in finance to conduct your research.
Strong supervision and mentorship
You will receive continuous and extensive support by the faculty. VGSF has an open-door approach that intends to encourage dialogue and help you in choosing your supervisor(s).
Most students choose their supervisor(s) in their second year, after they explored different research areas and been fully acquainted with the faculty.
Research excellence
The VGSF faculty members are leading experts in their fields and collaborate regularly with renowned experts and academics who are often invited to VGSF as guest lecturers or for seminars.
The faculty works with students to achieve state-of-the-art research. VGSF wants you to focus on your research, for this reason only little teaching is required.
Top international placements
We have built a worldwide network with our graduates who hold positions in top academic and industry institutions like Chicago Booth, Bocconi University, and many more. Our students secured top-level jobs in excellent institutions after graduation and VGSF regularly invites them for seminars so that they can pass on their valuable experience and knowledge to the current students.
Fully-funded
You do not need to find additional funding to subsidize you PhD, as you will be employed by one of the universities. We offer you competitive funding, which includes a monthly salary and subsidies to attend conferences. Your salary includes health insurance and you receive a net salary, entailing that you would not need to file your taxes.
Bonus: reason #6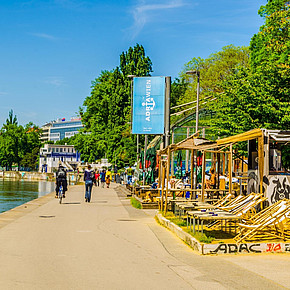 Vienna – state of the art living
Don't forget, you would be living in Vienna – the most livable city in the word for the ninth year in a row according to the Mercer's Quality of Living survey!
Vienna has a lot to offer and will accommodate everyone's taste: visit the many cafés, museums, theaters and events or stroll through the vineyards in and around the city. Vienna provides a safe and stable environment, great public utilities and transportation facilities, as well as plenty of recreational facilities.